444 Series Shock
Features the all-new Frequency Sensing Technology (FST) which allows the shocks to sense the frequency of a bump and automatically adjust damping for superior ride quality
Deflective disc valving
Adjust spring pre-load by hand, no special tool needed
Includes a progressive-rate spring and is high-pressure gas charged for consistent performance
Standard or heavy-duty spring rate with a black or chrome finish
Sold in pairs
Made in the U.S.A.
Note: Most Progressive shocks are assembled by the manufacturer at time of order which may require lead times. If you need more details please contact us before ordering.

Fitment:
Scout Sixty (2015 - Current)

Scout (2015 - Current)

Scout Bobber
Sug. Retail $781.95
PCS Price $699.95
444-4245, 444-4246, 444-4247, 444-4248, 444-4249, 444-1450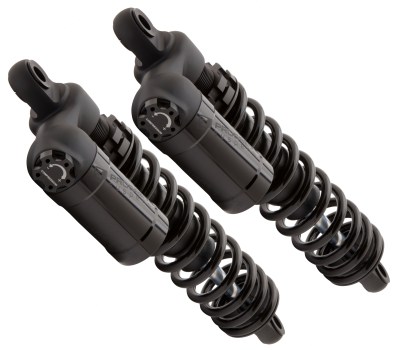 970 Series Piggyback Shock
Designed for performance-oriented twin shock bikes
Feature piggyback reservoirs, high-pressure gas charge and deflective disc-valving, all packaged in a mono-tube style body
Include progressive rate springs
The threaded preload adjustment and external compression adjustment knob allow for fine-tuning to provide optimum performance for rider weight or riding style
12" L
Made in the U.S.A.
Note: Most Progressive shocks are assembled by the manufacturer at time of order which may require lead times. If you need more details please contact us before ordering.

Fitment:
Scout Sixty (2015 - Current)

Scout (2015 - Current)

Scout Bobber
Sug. Retail $1378.95
PCS Price $1199.95
970-1013B