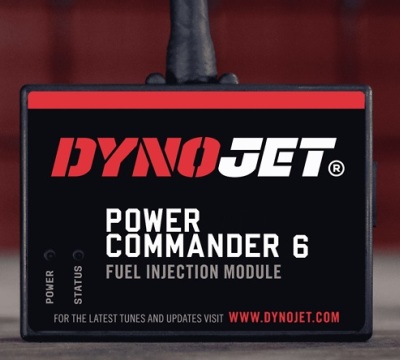 Power Commander 6
The Power Commander 6 is a powerful tuning device on its own, but what makes it a real powerhouse is the other compatible upgrades. From Ignition Modules for adjusting timing to Quick shifters and more, our Power Commander V is the first step for a full bike overhaul.
Fuel control for each individual cylinder in a smaller enclosure
"Warm-up" fuel adjustment (unit reads engine temp and allows fuel/timing adjustments based on the reading)
Includes ignition adjustment feature; allows full ignition timing control of each cylinder
Comes with Power Core software that connects dyno runs with our EFI Tuning Devices to unlock your ride's potential
USB powered from computer; 9 volt adapter is no longer needed
Two-position map-switching function built in
Can add any Single Pole Single Throw (SPST) switch and toggle between two different fuel maps
Gear/speed input allows for map adjustment based on gear
Analog input allows user to install any 0-5 volt sensor
Pair with other Power Commander accessories like the Autotune, Quick shifter or POD-300
Power Commander 6 is capable of allowing each cylinder to be mapped individually and for each gear with the gear position input connected
Easily change and upgrade tunes as you upgrade parts
Made in the U.S.A.
Fitment:
111 Ci Models (2014 - 2021)
Sug. Retail $443.95
PCS Price $398.95
PC6-29001, PC6-29005