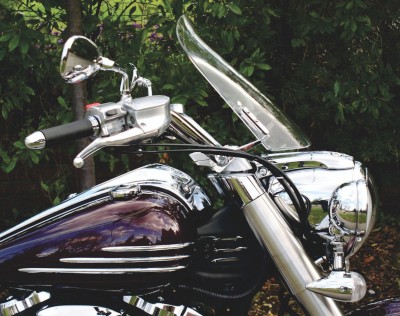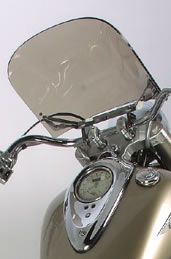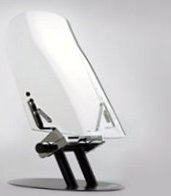 Windvest Windshields
The ultimate in windshield technology. Looking for a motorcycle windshield that provides superior wind protection without all the bulky hardware showing? Your search ends here! This sleek windshield does the job and looks stealth and stylish at the same time.
The 5mm hand molded acrylic windshield is very thick for added durability but deceptively sleek. The front surface has 2" side contours with an integrated deflector. These contours are designed to create a wind flow diverting pressure away from the chest and head. This is serious windshield technology!
Easy to install and quickly removed by two Allen wrench bolts. Designed for easy adjustable making up and down adjustments simple.
Custom appearance with functionality
Sturdy 5mm thick Acrycast material
Scratch coat treated to resist the elements
Mounting hardware is precision-machined, chrome-plated aircraft billet aluminum
All fasteners are stainless steel
Designed for quick, easy mounting and removal in minutes
Fitment:
Chief Classic (2014 - 2020)

Chief Vintage (2014 - Current)

Springfield (2014 - Current)

14"W x 14"H
Sug. Retail $415.95
PCS Price $379.95
14"W x 16"H
Sug. Retail $430.95
PCS Price $409.95
16"W x 16"H
Sug. Retail $445.00
PCS Price $439.95
10-1071C, 1071CT, 10-1271C, 10-1271CT, 10-1471C, 10-1471CT