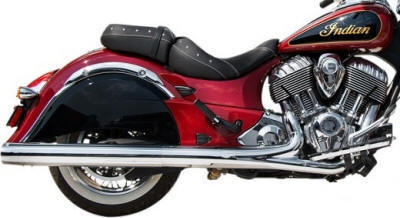 4" Silver Bullet Slip Ons
28" L mufflers provide a quick solution to giving your Indian a low, thunderous rumble
Increase low-end torque, mid-range pull and high-end horsepower
Improve the vintage Indian look
Show-quality chrome finish
Drastically improve the sound and performance of a stock Indian motorcycle
Extremely easy to install
Removable baffles for customizable sound
Sold in pairs
Made in the U.S.A.
Fitment:
Chief Classic (2014 - 2020)

Chief Dark Horse (2015 - Current)

Chief Vintage (2014 - Current)
Sug. Retail $799.99
PCS Price $499.95
LIMITED QUANTITY!!!
IN-759, IN-759B